Bumper Cars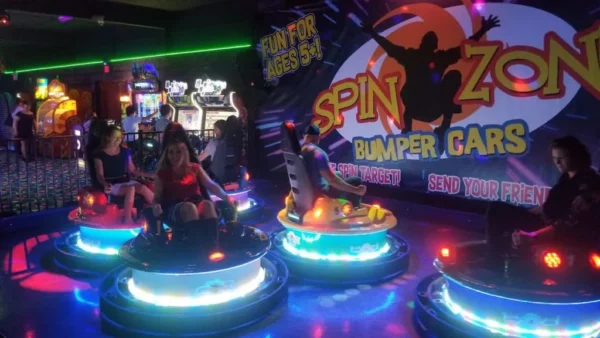 Grab a hold of the handles to move forward or backward, but watch out… your opponents will be aiming for two "Spin Zone" targets on your car. If they bump either one of your targets and activate the "Spin Zone," they will send your car into an uncontrollable 3-second spin! But have no fear… by bumping your opponents' targets, you, too, can send them into a tizzy! SPIN ZONE bumper cars have up to 10 cars running at one time. Do you have what it takes to send your opponents and friends into a spin?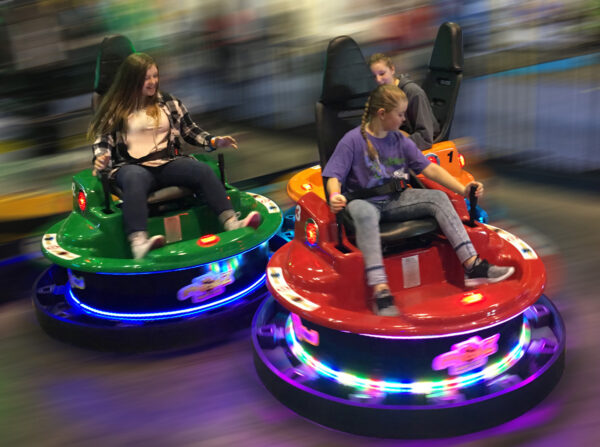 RULES AND RESTRICTIONS
1. Must be a minimum of 42″ tall and 5 years of age.
2. Weigh less than 350 lbs.
3. Be free from broken bones, back and neck problems, pregnancy and other
restrictive medical conditions.
4. Enter the Spin Zone Arena slowly and carefully. PLEASE WALK AT ALL TIMES!
5. Secure all hair over shoulder length and any loose clothing.
6. Fasten seat belts before the ride begins and keep it on until the ride is over.
7. Secure all long hair or loose clothing before entering the vehicle.
8. Keep feet and hands inside car at all times.
9. REMAIN SEATED at all time during ride. Car lights on = Car is on
10. If car malfunctions stay seated and raise hand.
11. Wear shirt and shoes while on this ride.
12. No smoking, eating or drinking in the spin zone area.
​
FAILURE TO FOLLOW RULES WILL RESULT IN THE TERMINATION OF YOUR RIDE – NO REFUNDS!